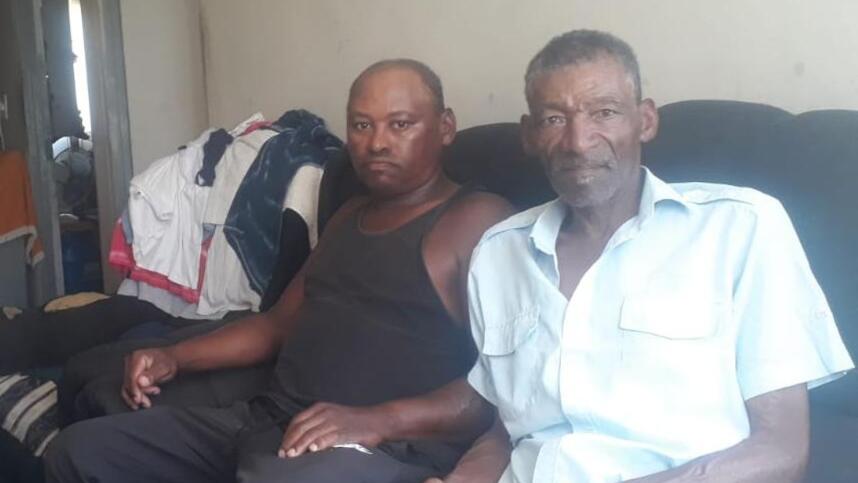 An Athlone pensioner was reunited with his brother on the same day his story appeared in the Athlone News ("Pensioner yearns to be reunited with his brother," March 2).
Brian Waterloo, 67, is thrilled that his brother, Ronald Waterloo, 53, is in his life again. Brian last saw his brother at their father's funeral sometime in the 1980s.
The brothers are two of seven siblings who were all placed in foster care when they were children. Ronald was only three months old when social workers removed him from their family home.
The article, which was also published in the Athlone News' sister newspaper, the Plainsman, was first seen by Ronald's wife, Rokaya. The couple live in Tafelsig.
"My wife showed me the story and asked if that is not my brother. I initially told her I don't have any siblings, but when I saw my name being mentioned, I immediately called the number that was printed in the newspaper. We agreed to meet at the Athlone police station on the same day. I have never travelled that fast in my life," Ronald said.
He added that he could not remember his brother, and he had no recollection of meeting his siblings at their father's funeral either.
On their meeting, Ronald said: "It was very emotional. Both of us shed tears. But I am very happy that I was reunited with my eldest brother. It feels good, and I am enjoying the journey of getting to know my brother and his family. Naturally, I still have many questions, and since he is the second eldest, he has all the answers."
Brian said they were so excited about reuniting that they did not eat at all during their first meeting.
"We came to my house from the police station, and he visited with me for a few hours, but during that time, we were so overwhelmed that it didn't even occur to us that we didn't eat. I can't explain how I feel. It is so amazing – to have met my brother in my older years. He calls me 'boeta', and that is so special to me. We have a strong resemblance. When I saw him at Athlone SAPS, I knew it was him immediately. He looks like our late brother, Clifford."
Speaking about his efforts to find his brother, Brian said: "Over the years, I have searched for him far and wide. I tried at the (Master of the High Court) and asked lawyers for assistance. It was only when I took my sick puppy to the People's Dispensary for Sick Animals (PDSA), and they told me there is another Waterloo on their system, that it gave me the motivation to approach the newspaper. The PDSA could not give me any of the details because of legalities."
What makes this reunion even more special for Brian is that he thought he would die last year as he battled Covid-19.
"I was hospitalised for six weeks. I did not think that I would make it. I have asthma, and I am still dealing with the after-effects of Covid-19. I can't walk far. I am grateful that I was spared to meet my brother again," Brian said.