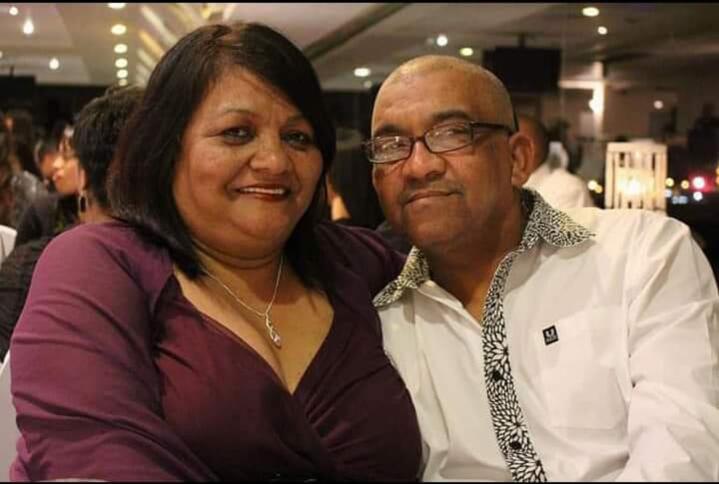 A Bridgetown woman is honouring her parents' legacy by continuing the community work they did.
René Poole's parents, Ivan, 65, and Denise Poole, 62, were well-known for their charity work over many years. Ms Poole succumbed to Covid-19 on Christmas eve and Mr Poole a week later, on New Year's eve.
René said her mother wanted to feed the homeless on Christmas Day and just the day before, she lost her life. Even though she was mourning her mother's death, she knew her mother would have wanted her to do it anyway.
"I was concerned about what we are going to do to honour my mother's wish. We could not have people come over to our house. Our dad was also still battling Covid-19. Just a week later, my father passed on. When we arranged a drive-by memorial for our parents, I asked those who want to be part of it, to drop off non-perishable food at the memorial," she said.
With the donations, René was able to make grocery parcels, as well as toiletry packs, and hand out soup and sandwiches.
Mr Poole was passionate about helping drug addicts turn their lives around, hence his work with Zanethemba Community Outreach, based at the Presbyterian church in Bridgetown.
Carol and Donovan Palmer are the co-founders of Zanethemba (which means giving hope). They started the organisation 20 years ago, after they lost their son.
"We saw how young people were struggling with addiction and that is why we started this organisation. Over the years, it was based at different places, and it was Mr Poole who assisted us to secure the hall at the Presbyterian church for free. He was so passionate about what he was doing. We miss him and Ms Poole terribly. He was such a great help to us. He would drive all the way to Malmesbury to drop some of the people in our programme off at a mission station there, when we could not make it. He also provided bread to rehabilitation facilities. When we had fundraisers before Covid-19, Mr and Ms Poole would host breakfasts and lunches for this cause. They gave of their best – their time and their talent. They were well-known and well-loved in Bridgetown and beyond," Ms Palmer said.
René said for as long as she can remember, her parents always did outreach. On Friday February 19, she was again able to distribute food parcels in their memory. She plans to do this at least twice a year – on her parents' birthdays and during the Christmas season. She is also continuing the collection of bread from a major bakery, to donate to organisations.
"I am just doing what they would do. Everybody loved them," René said.