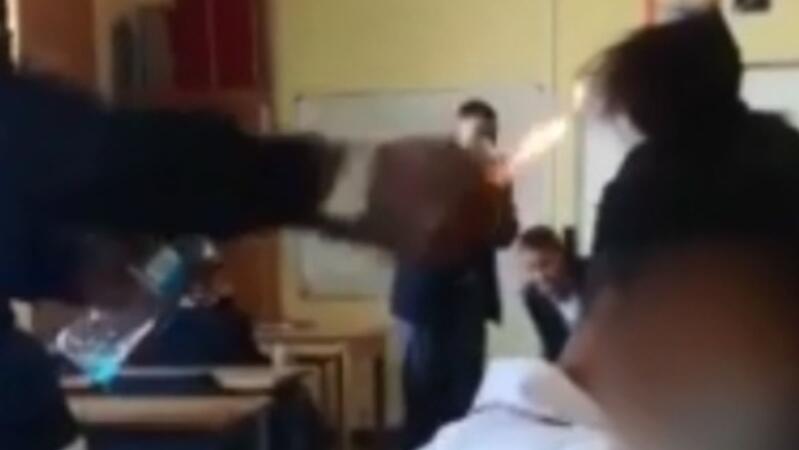 The 14-year-old Belgravia High School girl, whose hair is seen being set alight by a male classmate in a video clip that has gone public, reported previous bullying, says the Western Cape Education Department (WCED).
The incident took place on Monday May 17. In the video, the boy can be heard making fun of the girl. He pours an energy drink onto her hair as she sits at her desk. He then asks a classmate for a lighter and sets the girl's hair alight before dousing the flames.
The girl had reported verbal bullying to her class teacher in the first term, said WCED spokeswoman Millicent Merton.
"The teacher immediately addressed it with the learner involved. No other cases of bullying were reported," she said.
Both the girl and the boy are Grade 8 pupils.
The WECD had investigated the incident, and the boy's parents had been called in to discuss the matter, Ms Merton said. The boy has been suspended, pending a disciplinary hearing.
"Support was provided to the victim. The principal, deputy principal and head of department addressed the class. A school psychologist also addressed the learners," said Ms Merton.
The incident had happened during a change-over of teachers between periods, Ms Merton said. "Learners stay in the same classroom, and the teachers move from classroom to classroom."
Athlone police spokeswoman, Sergeant Zita Norman, said they could not investigate unless the girl laid a charge at the police station.
If that happened, she said, the boy could be charged with assault to do grievous bodily harm.
"If she reported being bullying previously, then the school has failed her. All of the pupils who were witness to the incident will face the might of law if they were found to be involved and could be charged with accessory to do grievous bodily harm," Sergeant Norman said.
Namuma Mulindi, policy and advocacy unit specialist at Sonke Gender Justice, said that generally the police could investigate a crime if there was evidence that one had been committed, like a building being burnt down. However, she said: "In this situation, someone needs to report the incident to the police, even if it's not the girl herself, so that the matter can be investigated.
"There are many parties who could report this, including the principal, the education department, and other witnesses or family of the girl. If she does report this, she must take an adult with her because she is a minor."
When the Athlone News phoned the school, a woman who refused to identify herself said the principal was unavailable to comment. The woman declined to answer questions, saying the matter was "confidential" and then ended the call.