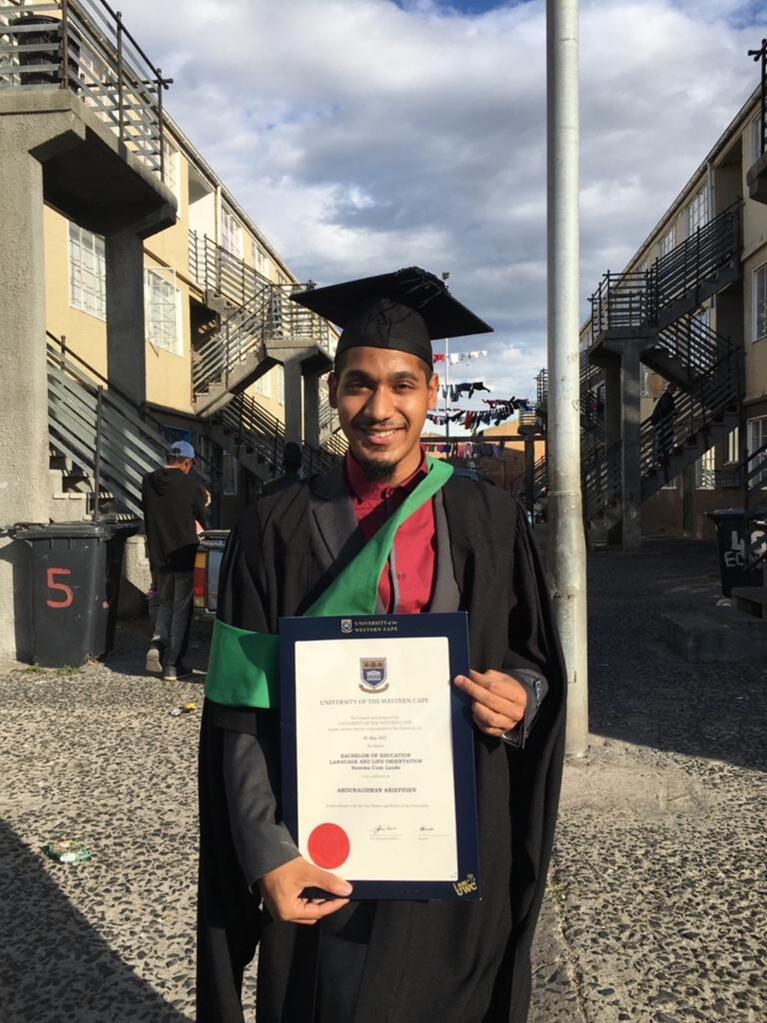 Inspired by his former teachers and a quote, coupled with hard work and commitment, a young Manenberg man graduated with a Bachelor of Education (BEd) Summa Cum Laude from the University of the Western Cape (UWC).
Abduraghmaan Ariefdien, who is a teacher at Two Oceans Leadership Academy in Grassy Park, said he did not expect to graduate Summa Cum Laude (the highest distinction awarded to a university graduate).
The 23-year-old said he owed his success to his teachers, and especially to his Red River Primary School teacher, Linda Elizabeth Hardenberg.
"I was a very shy child, and some of it had to do with the fact that I had a speech impediment. When I was in Grade 2 in Ms Hardenberg's class, she used a teaching method that made me blossom like a flower. She worked with me from Grade 2 until Grade 4, when I overcame my impediment," he said.
His committed teacher, as well as a quote he learnt – "what good is in my knowledge, if I cannot share it?" served as his inspiration to study education.
Mr Ariefdien also happens to be a triplet. His sisters also graduated with teaching degrees. Raeesa Ariefdien is a teacher at The Leadership College (TLC) in Manenberg, and Rafeeqa Ariefdien teaches at Manenberg Primary School.
When asked how the family coped with three tertiary students studying at the same time, he jokingly said: "It was especially difficult on our mother, because she had to deal with all our stress." He added that all three of them had been awarded bursaries so the financial burden was not too heavy on the family.
In matric, he was a member of the 2016 senior leadership and executive team at TLC and was also awarded the 2015 Director's Award for best student at TLC. At university level, Mr Ariefdien received the 2018 UWC Academic Achievers Award for best first-year student in the Education Faculty for 2017. He was also awarded the Dean's Merit List Certificate for Outstanding Performance in 2017 and 2018.
When asked how his family reacted to his good results, Mr Ariefdien giggled when he said some of them asked how it was pronounced.
Ms Hardenberg said she was proud of Mr Ariefdien. As his teacher, when she became aware of his challenge, Ms Hardenberg first worked on gaining his trust and building a relationship with him and his family, she said. Then she made classroom activities fun, with lots of excitement. Before long, Mr Ariefdien would read aloud in class.
"I realised he enjoyed the attention, and then we worked from there. I also had to balance how much attention he received, as I had other learners also to attend to.
"I made a point of identifying all my learners' needs. I always reminded him that he has greatness inside of him and that he must consult with God.
"Today Abduraghmaan has such a powerful voice. He blew me away when he made a speech at my retirement. He is so phenomenal. He is living what I advised him many years ago – that we must make a positive impact with our profession, because teaching is a calling," Ms Hardenberg said.
Said Mr Ariefdien: "I dedicate my Summa Cum Laude to my parents, all my TLC teachers and my first inspiration, Ms Hardenberg. Graduating with this accolade is as a result of all their hard work. All honour to our Almighty," Mr Ariefdien said.