Nizaam Hendricks was 2 when a car hit him and put him a wheelchair, but it didn't stop him joining one of the minstrels' choirs that are woven into both his and Cape Town's heritage.
It was June 1992 when Nizaam's father Riedwaan got the call every parent dreads: Nizaam had been playing with a ball in the driveway and had chased it into the road where a car knocked him over.
Riedwaan rushed from work to the Red Cross War Memorial Children's Hospital where his son was in the trauma unit, his head so swollen it looked like a rugby ball. After an emergency operation, Nizaam spent two months in a coma in ICU.
"The doctor said that he would either be like a vegetable or disabled and won't live long," recalls Riedwaan. "This news came as a shock to us, but we continued to pray, and then the doctor called to say that there were complications with his lungs – he might be rushed to theatre again. I said, 'No doctor, no cutting, no operation.' He further explained and assured me that my son is in capable hands and that they will do the necessary tests first then make a decision."
The tests confirmed Nizaam's lungs were failing. Two weeks later, the hospital told Riedwaan his son was on life support and the machines would be turned off after three days.
"I said, 'No way, doctor, nobody's going to switch it off. God will make that choice if it is his time to go'."
Nizaam stayed on life support for another month and was then able to breathe on his own. A month later, he was transferred to Groote Schuur Hospital, where he finally opened his eyes. He was discharged a few months later.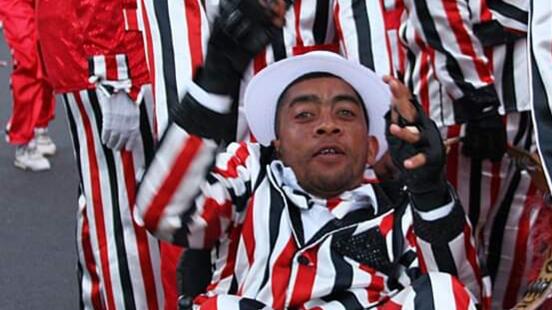 When he was 8, Nizaam joined the Orient Minstrels, and he is still a proud member of the choir. He plays the tambourine and says his passion for the minstrels runs in the family, as his father and uncle were members of the Beach Boys and Billionaire Boys choirs.
"I joined the minstrels to keep my mind busy and off of other things," says 31-year-old Nizaam. "The coons has always been a part of my family, and that is how I developed a passion for it. It is our heritage, and it will always be a part of us."
His family have always been his biggest supporters, he says.
"When it's stadium time, my grandmother and all the aunties come to watch me. They stand up and cheer and shout for me, and I have to wave to them; it's like an outing for them."
He says people should never take their ability to walk for granted.
"Be grateful that you can walk and do things for yourself. I can help myself, but there are certain things that I can't do, and it hurts a lot sometimes."
Riedwaan says his son is very fond of the Orient Minstrels as they are of him.
"We're like a family," he says. "He doesn't leave the practice or meeting until it is over, and only when people start moving out, that's when he'll leave. When my in-laws come to the stadium, they bring the whole kitchen along- a lot of food, and they share with everybody, whether you're family or not. It's just how they are… a giving nature.
"Everybody wants to go to Nizaam, kiss him, and they would admire him in the minstrel outfit. This is how it goes every year with the klopse and with our family for over 21 years."