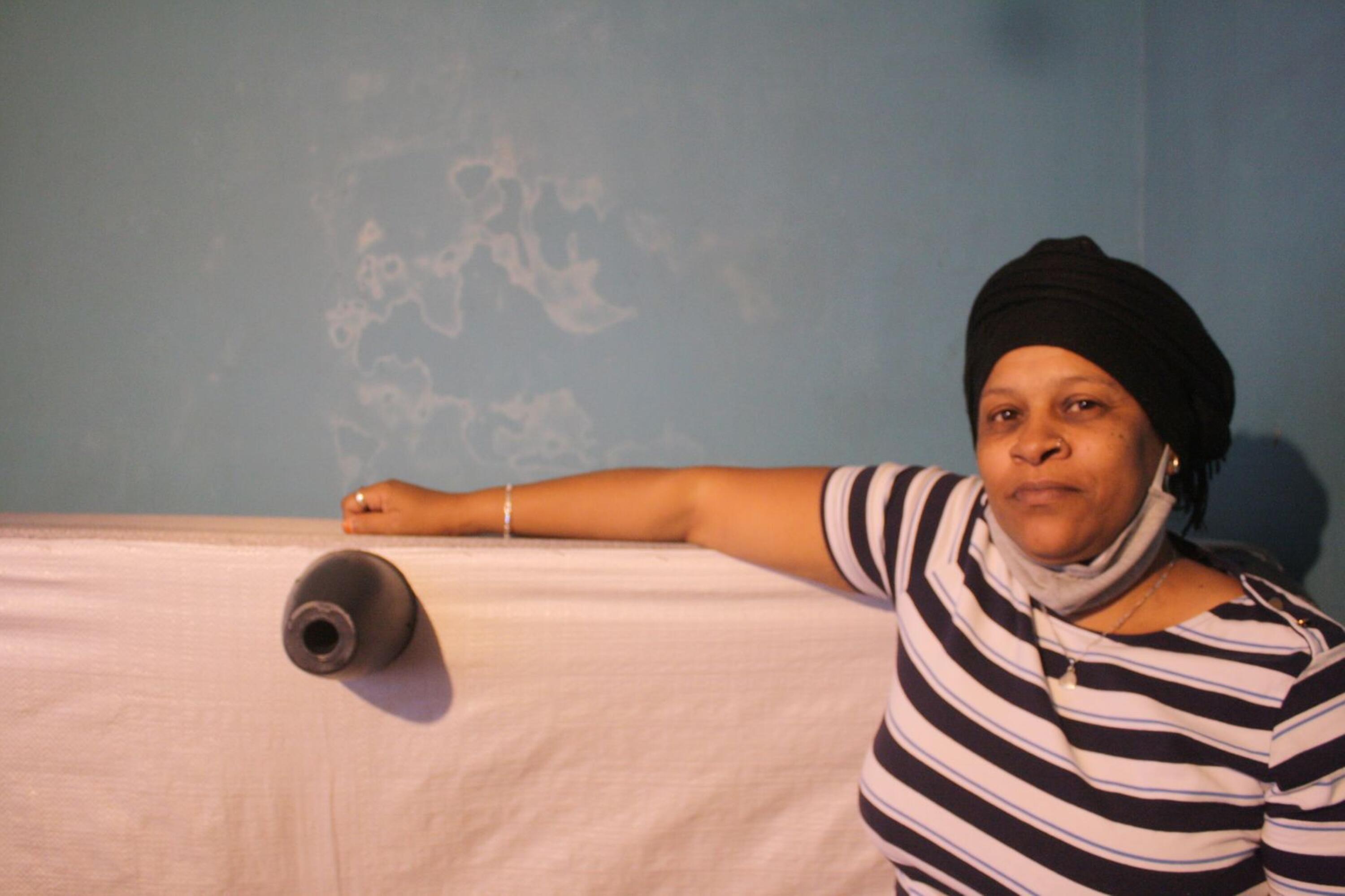 Some Heideveld residents in Helderberg Close claim the defects in their houses have caused them to develop chronic respiratory conditions.
They say since the first winter that they moved into their low cost houses four years ago, they have had to deal with cracked, wet and mould-ridden walls, holes in the cement floors, and water seeping in from under their doors and windows when it rains.
Firdous Schippers said when it rains, her lounge floods.
"It looks like an indoor pool here every time it rains. I never had a chest problem, but since we moved in here, I am now on an asthma pump. I also often have to borrow my cousin's nebuliser. My 21-year-old daughter has chronic asthma, and my seven-year-old grandchild has chronic bronchitis because of the conditions we live under here.
"When we complained about the conditions before, they came to 'fix' it, but the cement on the floors is so thin that when one mops the floors, it starts cracking again, and then it forms holes. We can't drill a hole in the walls, cause all you see is sand coming out. This is shoddy worksmanship," Ms Schippers said.
Her neighbour, Galiema Soares, said they appreciate that they have houses, but questioned the "sloppiness" of their construction.
"I complained about a cracked wall. The contractor literally put newspaper in the crack and covered it with cement, promising to come back to fix it properly. That never happened.
"We have all developed chest conditions because of this. I have towels permanently around the walls in the house to help catch the water when it seeps in.
"I was given expensive paint as a gift, but not even that could keep the mould and wet conditions away. My pillow is wet. We have to pull our beds away from the walls. We can't sleep with open windows, because of the criminal element. In winter, when our doors and windows are closed, our walls sweat," Ms Soares said.
Berenice Sias and Sandra Nichols said they struggle with the same issues. The women added that they have been to the local housing office to complain, but were told that they were responsible for maintaining and fixing their own properties now. However, they pointed out that most of them were grant recipients or pensioners, and that they didn't have the money to fix their houses.
"We don't have title deeds. Our addresses are not even recognised yet. We have to collect our post from Gatesville post office. We are forced to walk all the way there. How can they say we must fix our own properties? I would fix my place in a heartbeat if I could afford it, but most of us simply cannot afford it," Ms Schippers said.
Ward 44 councillor, Anthony Moses said it had been almost five years since the residents moved in, and procedurally, this "makes things difficult".
"What makes it difficult, is that when people moved into their houses, they signed documents to say they are happy with the condition of their homes. If there are structural challenges, then these need to be dealt with, as it is serious.
"The local housing office is not responsible for maintenance of these houses. During this housing development, and at various stages, I have been to at least 24 awareness information sessions where the procedures and their responsibilities were explained to the beneficiaries. This happened before they signed a deed of sale."
Responding to the women who claimed that their complaints had fallen on deaf ears over the years, Mr Moses said: "We received a mass complaint from Heideveld. We listed all the complaints, and the former mayoral committee member for human settlements came out and inspected it. Some houses were fixed then, so they cannot say their concerns fell on deaf ears."
He also added that some residents had not yet received their title deeds, as the processes were still under way with the planning department. However, he added, this did not mean that the City of Cape Town was responsible for fixing their houses.
"The process is already under way to get their title deeds to them, so once this happens, it is as if they already received it," Mr Moses said.
Ms Schippers said some might have signed that they were happy with the condition of their houses, because when they moved in, there had been no problems.
"The defects started showing during the first winter. We moved in before winter," she said.
Mr Moses said he would arrange a visit, together with the project manager, to see if there were any serious structural defects. He would also assist those who would like to apply for indigent grants, he said.