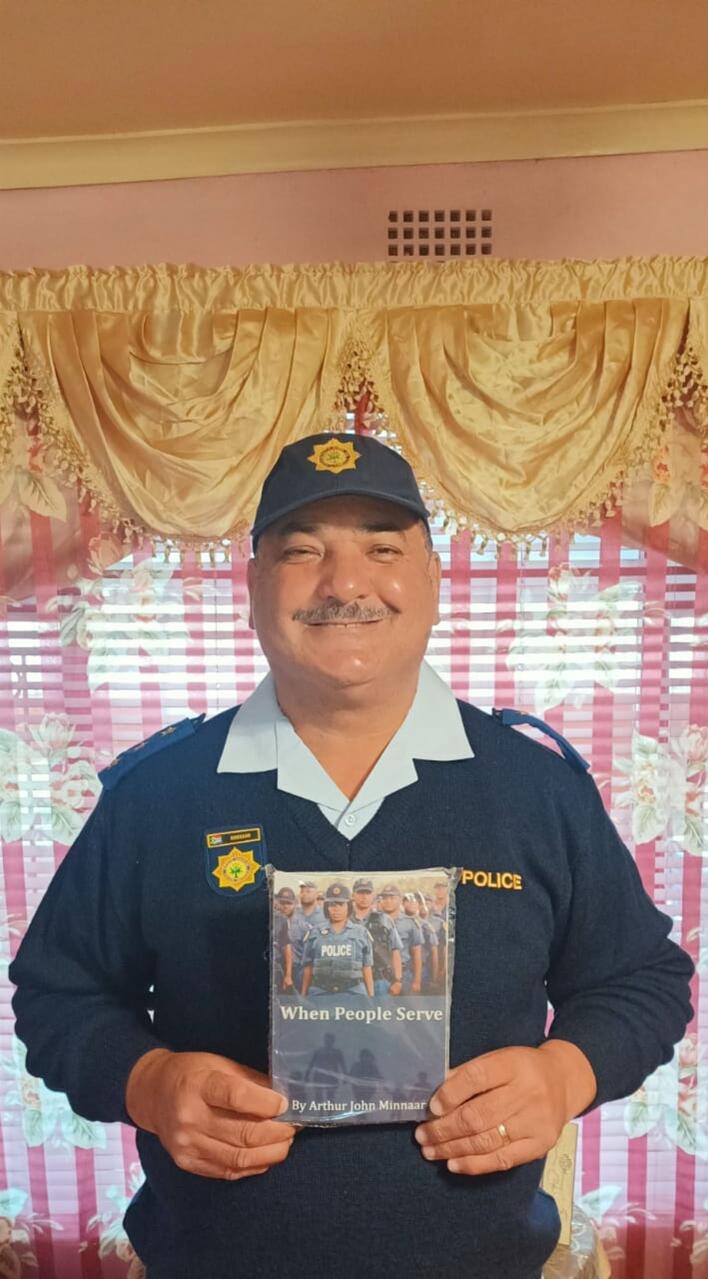 A Hazendal police officer who grew up in Bonteheuwel published a book based on his experiences of nearly four decades of serving under both an apartheid and democratic government.
Captain Arthur Minnaar started on this book, titled When People Serve, in 2013, which is a 362-page collection of short, real-life stories. The death of his older brother, Cedric Minnaar in 2003, who was also a police officer, was part of the reason why he decided to "put pen to paper".
The book deals with, among others, how he as a person of colour, was subjected to abuse from his white colleagues during his early days as an officer, and having to deal with his friends and people he grew up with, considering him the enemy of the liberation struggle.
"My aim in life was to become a medical doctor, but due to financial circumstances I had to leave school before I could matriculate. I am one of 10 siblings and my mother was a housewife and my father was an ailing asthma sufferer. I was forced to look for work to help support the family and had to drop out of school. I applied to the railway police, because opportunities were limited then. I also had two people I looked up to in Bonteheuwel, and they both happened to be police officers," Captain Minnaar said.
Throughout all the challenges life threw at him, Mr Minnaar said his belief and relationship with God carried him through.
"I clung to my Maker who made it possible that I could, later in life, graduate with an Honours Degree in B Admin at the University of the Western Cape (UWC)."
He jokingly relates how, when his white colleagues wanted to punish their colleagues of colour, it actually set him on a path of empowerment.
"When we have contravened any regulations, then their way of punishment was to let us put in a report, not in writing, but with a typewriter. We were not trained to use it, but had to find out for ourselves and started typing with one finger. They unknowingly empowered us, so that my readers are now able to read my stories typed by myself."
The book also tells the story of how his family was almost assassinated, and of reconciliation with his freedom fighter peers.
"During the anti-apartheid uprisings my brother and I were treated like outcasts by our fellow peers because we decided to serve our community. Today we have buried our past and can look each other in the eyes. My aim has always been to serve my community to the best of my ability. In everything I do, I always give thanks to my Maker," he said.
Captain Minnaar was the youngest in police training at the age of 17. He was stationed at Cape Town railway station after passing, and in 1986, after the amalgamation of the South African Railway Police (SARP) with the South African Police (SAP), he was transferred to Pinelands SAPS. He later served at Mowbray SAPS where he served in social crime prevention, communication, as victim support co-ordinator, and reservists commander, among others.
"Upon my promotion to captain I received a certificate from Mowbray Community Police Forum (CPF) after serving eight years as the secretary. On it was written that life is no longer meaningless when people are serving. Hence the reason I named the book, When People Serve.
Professor Jonathan Jansen from Stellenbosch University wrote the foreword for his book. Part of it reads: "In this riveting new book, Captain Arthur Minnaar takes us on a journey through ambivalence in the form of simple, unpretentious stories of what it meant to be a policeman on each side of the 1994 divide, under apartheid and in a democracy. In doing so, the writer forces us to deal with complexity – the criminals and the comrades, and the shadows in-between. To his credit, Minnaar never preaches to defend his profession, nor does he wallow in self-pity because of the horrible cards that life dealt a poor, black family on the mean streets of Bonteheuwel."
The self-published When People Serve will be launched online on Monday August 9. It sells for R250 each and is available from Captain Minnaar, at 071 604 8380.