A handful of Rylands residents picketed in Hazel Road on Saturday, demanding the City fix the local sewerage system as they are fed up with sewage spills, blocked drains and toilets and the stench of human waste.
Sewage spilled from a manhole and swamped Hazel Road, in the heart of the Gatesville commercial hub, for five days until municipal sanitation staff eventually stopped the overflow on Monday August 2, after two earlier failed attempts.
Rylands resident Majid Mowzer complained that the sewers were blocked whenever it rained, threatening public health.
"What are they doing to find a permanent solution to the issue? They claim it is due to the vandalism of valves, but surely if it keeps getting vandalised, it must be secured and enclosed so what is the actual truth? Businesses suffered and our community fear for their health. We are in a pandemic after all. The City didn't even close off the road… Where is the protection for the residents? They are treating us with absolute disdain; it is disgusting."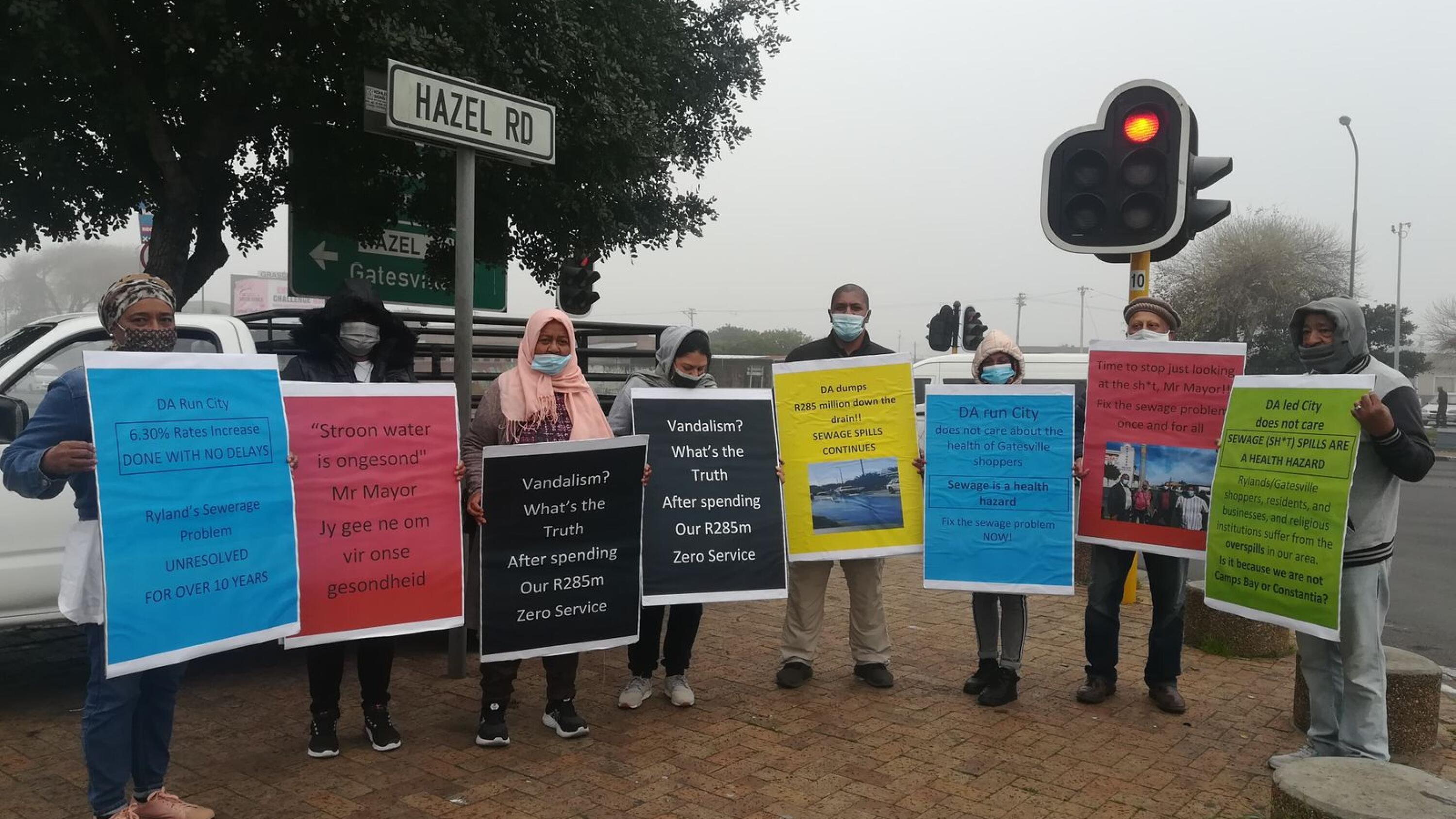 Another resident, Faldiela de Vries, said the sewers couldn't cope with the current population.
"I am not an engineer, but it is obvious that there is a mess-up between the stormwater drainage system and the sewage system. There has been a lot of additional developments in the area – RDP housing, a hospital, informal settlements – but the infrastructure hasn't been upgraded to accommodate all of the developments," she said.
Gatesville Neighbourhood Watch chairwoman Fowzia Veerasamy said residents were fed up with the stench, and frequent drain blockages had plagued Rylands for more than 40 years.
"Every time it happens, we are sent from pillar to post, and there are no permanent solutions. They need to take a look at the entire sewage system and see why this is happening. After each overflow, there are new potholes. It is fixed for now, but we will see what happens when it rains."
Drains and toilets at Coral Court in Rylands have been blocked for two weeks, according to resident Mariam Kajie. Her toilet overflowed when she flushed it, and not for the first time, she said, referring to previous plumbing problems at the council flats ("Stench and water woes plague council block," Athlone News, February 24)
"When any of the sewage drains are blocked, it affects all of us. It always starts with me and then the rest of the court. We are really sick and tired of this; we don't know what to do anymore. I am so fed up with this. It is really frustrating that we have to live like this," she said.
Shaboodien Parker, who owns the Golden Dish take-away in Gatesville, said he had lost 60% of his business over the past weekend. People did not want to come to the area because of the stench, and his customers complained daily.
"This is really bad for business, and it is not the first time. We have been sitting with this problem for over 30 years. We are appealing to the City to find a permanent solution for this."
Xanthea Limberg, mayoral committee member for water and waste, blamed vandalised valves at the Athlone sewage works for the problem. The City had fixed the valves on Friday June 18, but it seemed the valves had not been adequately isolated to stop effluent from the Raapenberg pump station entering the Cape Flats system, causing the overflows.
Two pump stations would need to be shut down and effluent diverted so that staff could do repairs safely in an underground chamber, she said.
"Environmental impact is a serious concern, as wastewater needs to be diverted somewhere, and diversion into the nearby Vygieskraal River would cause pollution. Environmental guidance and authorisation is required before work can commence," she said
Also, the existing valve model was no longer manufactured and the City had asked the supplier for a solution.
"A detailed scope of work is being drafted," Ms Limberg said, adding that an inspection of the pipeline stretching from the mixing chamber at the intersection of Klipfontein Road to Hanover Park had found no blockages.
City teams were vacuuming sewage from the mixing chamber in Hazel Road and the overflowing manholes downstream to minimise the overflows. She advised the public to avoid contact with the overflowing sewage to avoid illness.
"Fixing these problems is complex, dangerous, and carries significant risk to both human and environmental health, should something wrong," she said.