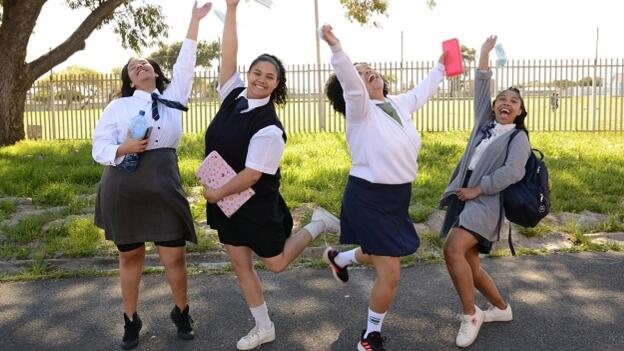 A new play by the Bridgetown Theatre Company explores the impact of Covid-19 on teenagers' mental health.
A Learner Called Stress looks at how the pandemic has left many young people feeling isolated and anxious and vulnerable to, among other things, low self-esteem, substance abuse, cyber-bullying suicidal thoughts, depression, panic attacks and eating disorders, says Zelda Hintsa, the company's marketing manager.
While many school pupils were thrilled when schools closed because of lockdown, joy was soon replaced by frustration at being unable to socialise and fears of illness and death, she says.
"Through all this, they are wondering 'will this ever change?' Twenty months of lockdown is a lifetime in the life of a teenager as opposed to an adult."
Teens turned increasingly to social media for online teaching and to stay in touch with family and friends, but they also encountered cyber-bullying and sexual and harmful content, she says.
At the same time, they found it hard to deal with the sudden deaths of family and friends and their parents losing their jobs while they were still expected to deliver good grades.
The play tells the story of five teenage characters each affected by Covid-19. They experience teenage pregnancy, death of loved ones, disappointments and difficulty maintaining a learning and studying routine.
A Learner Called Stress is written and performed by Umir Morris from Mitchell's Plain, Eurika Van Wyk from Heideveld, Lisa Williams from Bellville South, Jesse Wyngaard from Athlone and Angeline Swartz from Bishop Lavis.
Lisa Williams plays Oprah, a perfectionist who aims to be the first person to matriculate in her family. She is a top pupil but due to Covid-19 her grades drop sharply. Her parents are unemployed and want her to leave school and go work instead. She battles to choose between what her parents want and what she wants to achieve.
"These are the realities we all facing, be it your friend, neighbour or extended family member," says Ms Williams. "This play is not only targeted at people who have experienced the harsh effects of Covid-19. It is targeted at anyone who is willing to listen and understand that each of our struggles are not the same, but it doesn't mean that what we are going through is less important than the next one."
Eurika van Wyk plays Gretchen, a gullible, pregnant matric pupil who is in denial about the vaccine but wants to get her matric. Ms Van Wyk says Covid-19 has both divided us and brought us together.
Angeline Swartz plays Wardah, an over-ambitious, spoilt, private-school pupil with dreams of becoming a lawyer and whose mother died from Covid-19. The now penniless Wardah decides to study hard for a bursary. Ms Swartz says the play offers reassurance to teens, showing them that they are not alone and that there is hope.
Umir Morris plays Shafiek, an egotistic soccer player who started creating videos on social media after he is injured. Mr Morris says the play has broad appeal.
"It is a relevant storyline for learners of all ages to relate to in this trying time called the new normal as we know it. It changed many lives young and old. I hope our story brings a happy vibe in this sad time."
The 30-minute long production will be staged at primary and high schools from Monday November 1 to Thursday December 9. Schools can book the play by calling 082 536 3651.